Responsibility and sustainable development
Customers, owners and other important stakeholders expect the company to act responsibly and to develop its activities in line with the international Sustainable Development Goals. Without a plan, it is easy for sustainability commitments to remain disconnected or not made at all.
The best way to ensure a positive impact on business is to develop a corporate responsibility programme that takes into account stakeholder expectations and seeks to respond to changing demand in the most sustainable way possible. Sustainability can then be communicated, reported and managed.
Corporate Responsibility Programme
Ensure your company's relevance in the sustainability market
Know stakeholders' expectations
A key part of the corporate responsibility programme is to identify the expectations of key stakeholders. Knowing these enables us to better serve our customers and anticipate demand developments.
Sustainability can be communicated
For many companies, communicating about responsibility and its importance is a difficult subject. A corporate responsibility programme tells you what the company wants to achieve and why. It makes it easier to communicate.
Sustainability enables growth
When considered as a business enabler, sustainability supports and develops the core business and builds competitive advantage.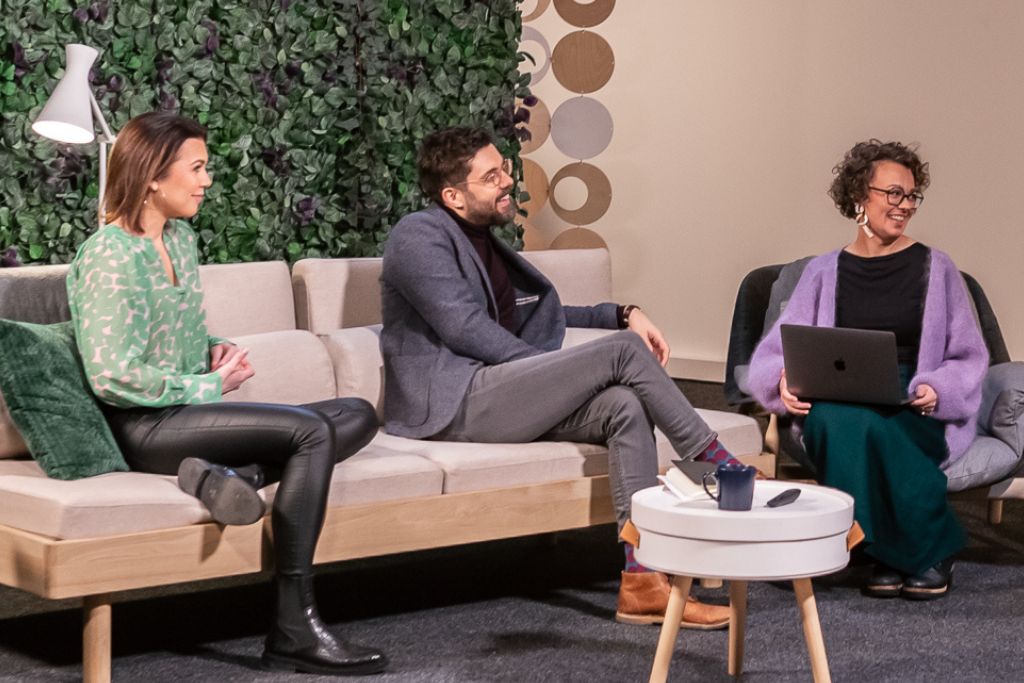 How is the Corporate Responsibility Programme implemented?
Identify corporate responsibility expectations from the business environment and stakeholders.
Recognising the impact of your own operations and the whole value chain on the environment, people and society, and understanding the role of business in sustainable development.
Design and implement a programme to develop, manage, measure and communicate sustainability.
What does the Corporate Responsibility Programme contain?
The programme defines what the company is trying to achieve through its sustainability work and why. It identifies the areas of focus for the company's sustainability development where it can and wants to make the greatest positive impact on the environment, people and society. Stakeholder expectations and needs play a key role in identifying these themes. The plan and its transparent monitoring will ensure that the desired objectives are achieved and that stakeholders (including customers) can follow the progress of the work.
The Corporate Responsibility programme includes:
Stakeholder analyses
Materiality assessments
Workshops for management and staff
Scoreboard to support sustainability reporting
Consultancy on sustainability processes
Graphical implementation
Sustainability communications plan
Monitoring is key
Only when implemented does the plan create real value. That is why a monitoring table is a key part of the corporate responsibility programme. It sets out the subject and the objective in which the company wants to improve. What has been achieved and what the company intends to do next. It is also important to report on failures, as open communication builds credibility.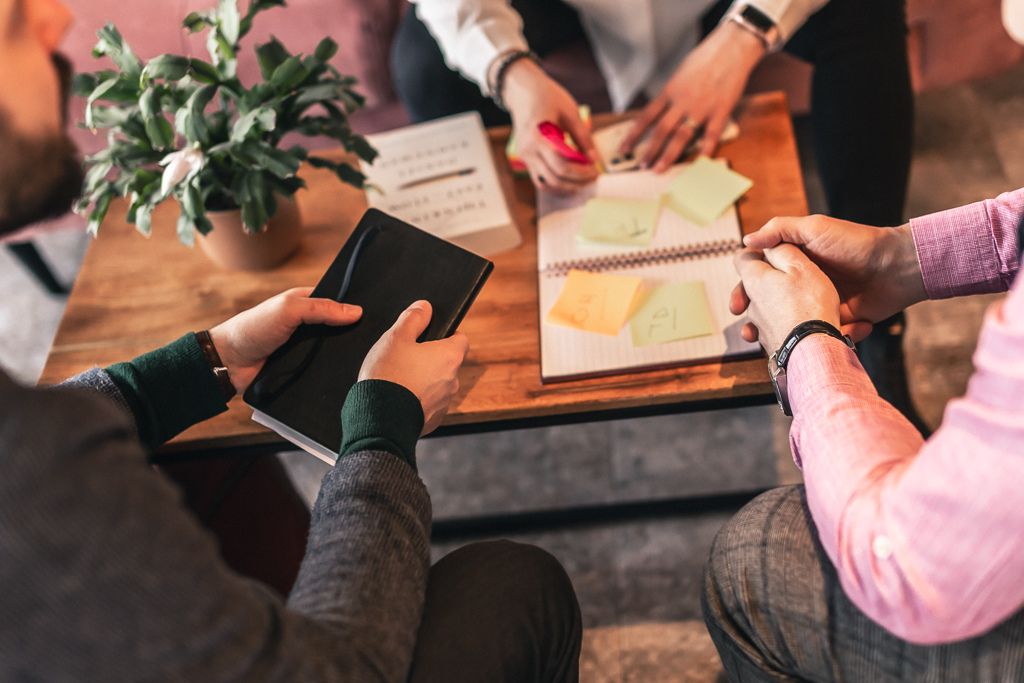 Reporting
The EU's Corporate Sustainability Reporting Directive (CSRD) requires the first sustainability reports to be produced in 2024 and published in 2025. The reporting obligation applies to an estimated 800-1000 companies in Finland that meet two of the three following criteria:
at least 250 employees 
a turnover of 40 million or  
balance sheet 20 million
Reporting requirements for larger companies will put pressure on smaller companies to report on sustainability, even if the reporting requirements are not yet met. Reporting companies want to ensure the sustainability of their entire value chain and therefore require sustainability data from their partners.
With regulation, sustainability reporting will also become an integral part of government accountability. The CSRD will require reporting on sustainability strategy and its link to the company's business will need to be demonstrated in the future. This means that the existence and reliability of sustainability data will be the responsibility of the board. In addition, verification of the data will become mandatory.
Sustainability team as a Service
When a company does not have the skills or resources to develop its own sustainability activities, the skills and management can be provided by a sustainability team as a service.
A sustainability team as a service is particularly suitable for companies that do not yet know how to start developing sustainability in their own organisation.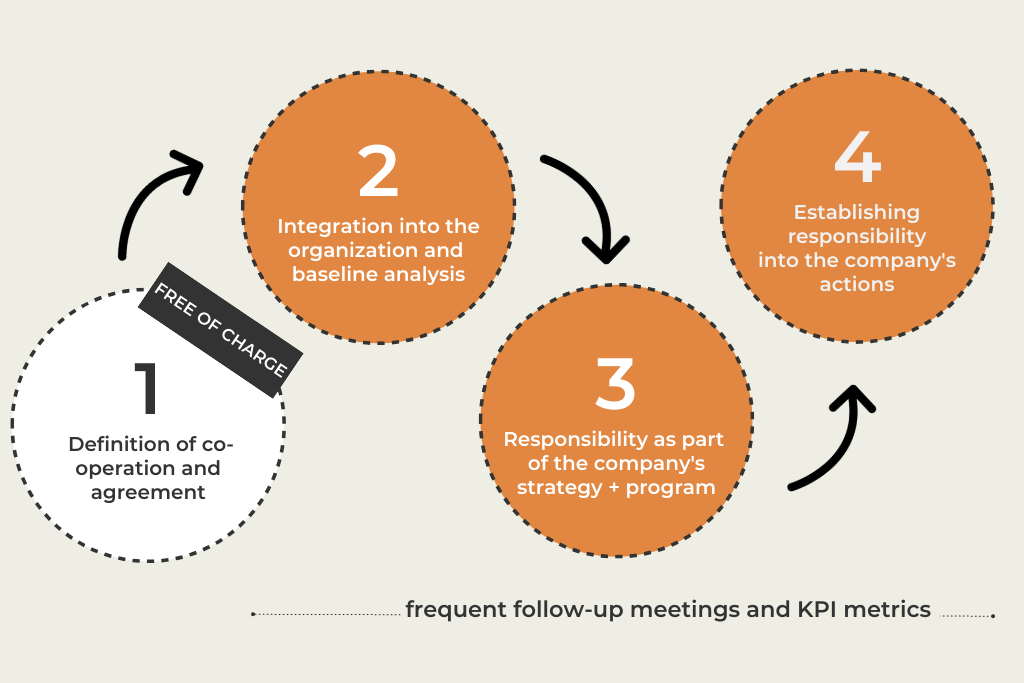 Benefits of the service
Allows a risk-free model for developing corporate responsibility.
Corporate responsibility becomes part of the day-to-day running of a company's business. The skills and abilities of staff are developed comprehensively.
Cost-efficiency
The Sustainability team as a Service is a flexible resource that is available for a limited period of time.
An independent team of experts is able to look at the situation from the outside.
Easy deployment, taking into account the company's starting position as far as possible.
Resources and skills are not limited to the competence and resources of the individual. The service is backed by a team of experts from different regions and partner companies.
Sustainability communications
Communicating responsibility is therefore part of corporate responsibility. Communicating about responsible corporate behaviour also gives a company a competitive advantage and strengthens its brand, employer image, staff motivation, market position and potential to contribute to society as a whole.
Communication is also a strategic level activity related to responsible business and its development, ensuring the conditions for responsible business.
Functions of responsibility communication
Messages that need the company's attention: what the company/organisation needs to understand about its environment and in which discussions it should be involved.
Own understanding and internal communication: internal understanding is essential in order for responsible practices to be committed to and become practice.
The messages that go out from the company: through engaging communication, the company makes its own practices visible and creates value and demand for them.
Our sustainability communication services include
Interviews and analysis, stakeholder surveys
Communication strategy, marketing plan, responsibility in brand communication, strategy communication
Workshops and training for staff and key personnel: internal communication, responsible employer, responsible communication, sustainable branding
Content production: articles, blogs, newsletters, online and social media content
Media communications and press releases
Communication materials; graphic design, brochures, websites
What is the value of sustainability communication?
Knowledge of the operating environment
Setting strategic objectives
Operational and brand development
Utilising internal knowledge
Employee engagement
Turning sustainability into a competitive advantage
Attracting talent
Increasing knowledge
Changing the market
Social impact
Check out our other services for sustainable business