Efficient data management
Business platforms
A business platform is a digital platform that provides companies with the tools, technologies and functionality to develop and manage their business. The platform can include tools such as e-commerce, customer relationship management, financial management and marketing tools that a company can use to streamline its own processes.
A digital platform to develop your business
Companies typically have a lot of business-relevant information to help guide their business and make decisions. However, the challenge of data management is often that important information is not easily accessible at the right time. If essential information is scattered in people's heads, on screen books, on hard drives on laptops, in separate Excel spreadsheets and in dozens of point systems, it is impossible to access and manage effectively.
Business platforms can be used to replace disparate point systems, digitise manual workflows and connect different data sources, bring data and business logic together in one central place, and more. Centralisation facilitates data analysis and visualisation, enabling real-time, rapid decision-making.
While business platforms are generally scalable in terms of functionality, they cannot usually replace all of an enterprise's information systems. However, they can serve as a central integration point, connecting different systems and applications into a single entity. This can facilitate information management and process execution, while improving organisational efficiency and productivity.
Benefits of a business platform
By centralising different business activities on a software-based business platform, many benefits are achieved, such as:
Automation: business platforms offer the possibility to automate business processes, leading to improved work efficiency, facilitation and resource savings.
Operational control: business platforms enable comprehensive operational control, helping to manage resources efficiently, optimise production, reduce waste and improve productivity.
Business process consolidation: business platforms allow business processes to be consolidated onto a single platform, making it easier to manage business, harmonise practices and save time.
Data-driven decision making: business platforms enable the collection and analysis of business data in real time, which helps decision-making and improves business performance.
Cost-efficiency: business platforms can deliver cost savings through automation, efficient resource management and process optimisation.
What do we offer?
Virnex provides services for all stages of the business platform lifecycle. Centralising services with a single supplier often results in savings in management costs and facilitates supplier management.
Our design services include platform requirements definition, consultative architectural design and outlining development roadmaps. The service is particularly well suited to the early stages of the platform lifecycle, but is also used throughout the lifecycle to support an evolving business.
Our deployment and integration services help with platform deployments and platform integration with other systems. Our strong experience from previous deployments and our dynamic team of experts accelerate high quality platform deployments and integration with other data sources through integrations.
Maintenance and support services help to keep the platform up and running and solve problems that may arise during the production use of the platforms. Our support team is always made up of carefully selected experts for the customer, as the expertise of a designated team speeds up problem solving, facilitates communication and reduces the need for training.
Our training and consultancy services help businesses adapt to the change in the way they operate with business platforms. User training is an important part of change management, as it enables users to feel part of the process of planning and implementing change. The effective roll-out of new, smoother business models is beneficial for both users and the business as a whole.
Continuous development services allow us to extend the platform with new features so that it can respond to changing business needs quickly and flexibly. Extending, optimising and customising business platforms provides competitive advantage, improved customer service, flexibility and operational efficiency. Our partnership-based service model, developed over more than a decade, ensures that business platforms continue to evolve quickly and cost-effectively.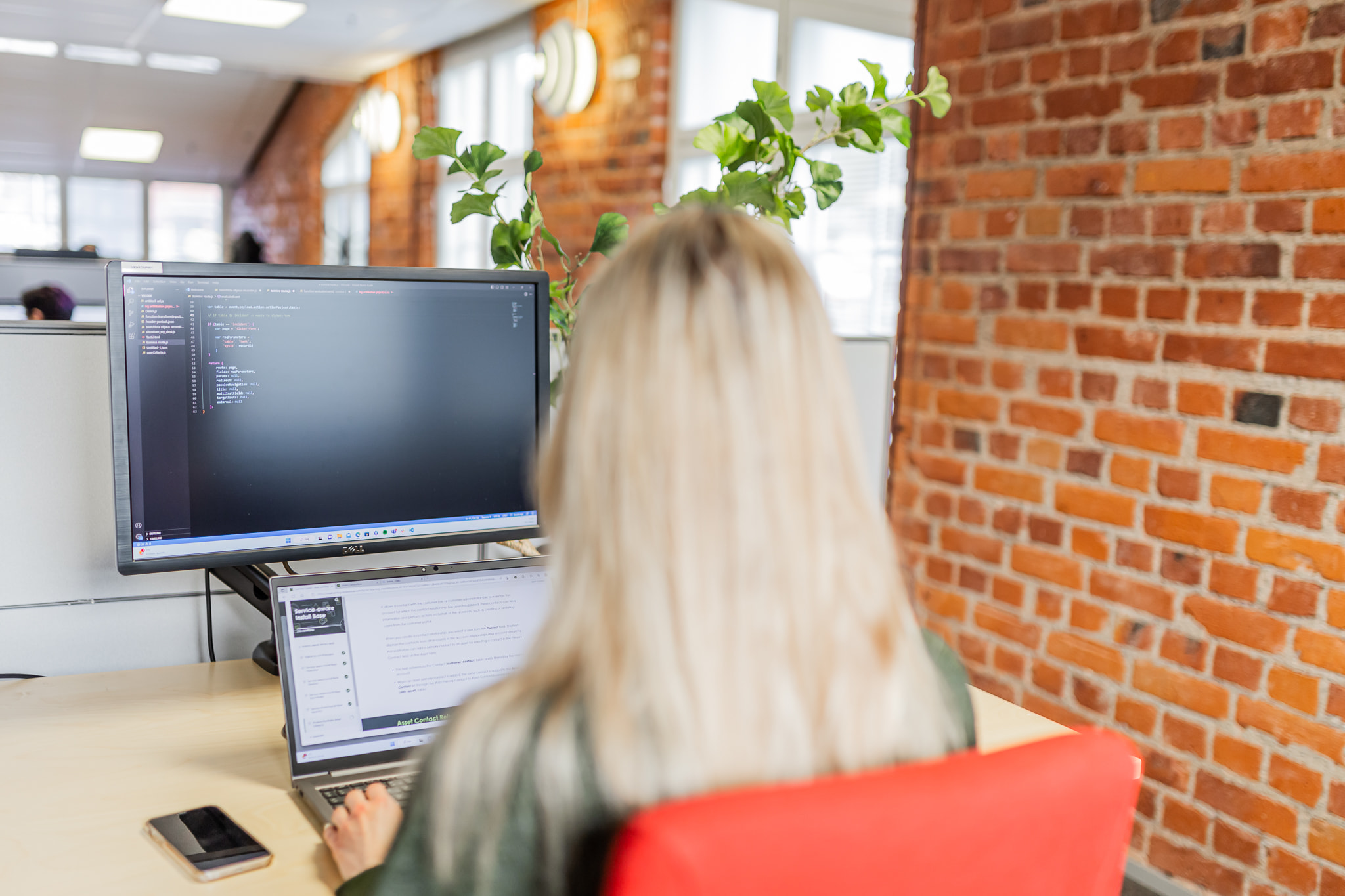 Technologies we use
Contact us
Our experts will act as guides in the new digital world and make it understandable.  Whether you need an individual consultant as part of your business team or a holistic view of data-driven business, contact us!